You are here
The AmCham EU Youth Entrepreneurship Award 2015 jury deliberation takes place
The 3rd Annual Youth Entrepreneurship Award, in collaboration with JA Europe, jury deliberation took place on Thursday 8 October 2015 at the AmCham EU offices.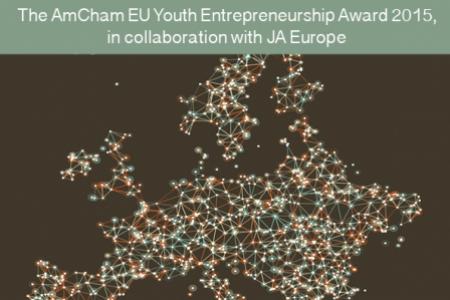 Finalists were judged on thier levels of innovation, sustainability and commercial potential by the five members of the jury: John Breidenstine, Minister Counselor for Commercial Affairs and Senior Commercial Officer for Europe at the US Mission to the EU, Daniel Calleja-Crespo, Director General, DG Environment at the European Commission, Susan Danger, Managing Director of AmCham EU, Ryan Heath, Senior EU Correspondent at Politico Europe and Julian Nebreda, President of AES Europe.
The award is organised in collaboration with JA Europe (formerly JA-YE) and is intended to be a symbol of the past half century of support for jobs, growth and innovation by AmCham EU and its members, as well as commitment to the future prosperity of Europe.
The winning team will be announced on Tuesday 17 November!