You are here
AmCham EU stands in solidarity with the European Commission's Beating Cancer Plan
Cancer is the second leading cause of death worldwide. In Europe, 2.6 million people are diagnosed with cancer every year, with nearly half of that number succumbing to the disease. If decisive action is not taken, then by 2035, approximately 40% of Europeans can expect to face cancer in their lifetime.
On this year's World Cancer Day, AmCham EU stands in solidarity with the European Commission's Beating Cancer Plan. Several of our member companies directly contribute to the fight against cancer providing innovative solutions in the form of cancer treatments or developing the medical devices used in cancer diagnosis.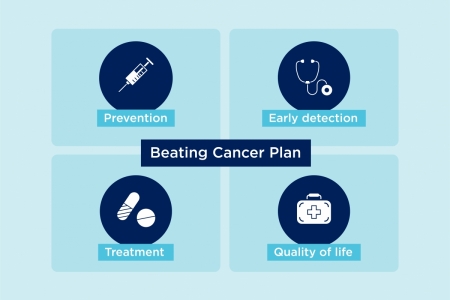 With this ambitious plan, the EU has devised a four-pillar approach to overcome cancer as a leading cause of death. These are:
prevention;
early detection;
diagnosis and treatment; and
quality of life of cancer patients and survivors.
AmCham EU shares the European Commission's ambition to take on cancer. A holistic approach that encompasses the entire disease pathway, while engaging the full arsenal of the life sciences sector in the fight, can help to improve the survival chances of cancer patients, while reducing the number of cases.
Check out our explainer of Europe's Beating Cancer Plan.