You are here
AmCham EU sponsors roundtable event on TTIP and its possible impact on the UK
On Thursday, 24 March 2016, AmCham EU supported a roundtable event on the Transatlantic Trade and Investment Partnership (TTIP) in London, UK. Entitled "What will TTIP mean for the UK?" and hosted by EurActiv, the event brought together key representatives from government, business and civil society to discuss TTIP and explore its possible ramifications for the UK.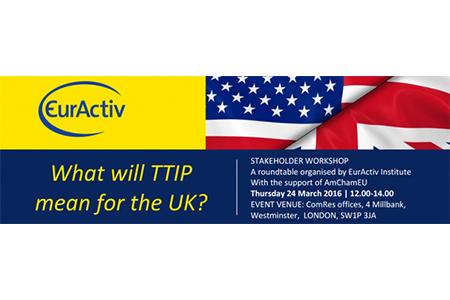 The roundtable discussion featured a high-level panel of UK- and Brussels-based experts, including Jacqueline Minor, Head of Representation in the UK, European Commission; Verity Threlfell, Assistant Director, Transatlantic and International Unit, Department for Business, Innovation and Skills, UK Government; Owen Tudor, Head of EU and International Relations Department, Trade Union Congress; Rem Corteweg, Senior Research Fellow, Centre for European Reform; Koen Berden, Director of Outreach, World Trade Institute; and Tim Adamson, Research Specialist, AmCham EU. The event also featured a presentation by Koen Berden of the recent study, "TTIP and the EU Member States," commissioned by AmCham EU.
Participants debated key issues related to TTIP and the UK, including the impact of TTIP on the UK relative to other member states, and the possible impact that the upcoming UK referendum on membership of the European Union could have on the country's trade agenda.
Watch the highlights video here.