You are here
AmCham EU participates in AmChams in Europe delegation visit to Washington, DC and Raleigh, North Carolina
Last week from Sunday, 8 May to Friday, 13 May, Susan Danger, CEO, AmCham EU and Chairwoman AmChams in Europe, led the USA Conference of the AmChams in Europe (ACE) network. The ACE delegation included representatives from 30 AmChams in Europe and wider Europe. The AmCham executives visited Washington, DC to discuss transatlantic relations, the war in Ukraine and the current global challenges with leading US stakeholders, including the US Chamber of Commerce; the US Department of Commerce; the US Department of State; and the US Congress.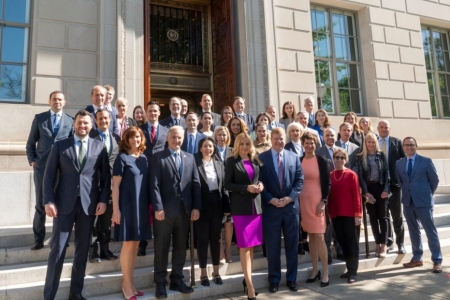 In Raleigh, North Carolina, the group had the opportunity to meet with business leaders based in Raleigh, notably SAS, Bandwidth, Novo Nordisk, Delta Airlines, Credit Suisse and more. A thank you from the whole organisation to The Research Triangle Regional Partnership for hosting the delegation in Raleigh and showcasing North Carolina to the executives.
During the visit, jointly with the US Department of Commerce, AmChams in Europe officially launched the Empower Her initiative, read more here.
AmChams in Europe is an umbrella organisation of American chambers of commerce (AmChams) that acts as the voice of more than 17,000 companies in Europe and Eurasia.