You are here
AmCham EU hosts plenary meeting on sustainable finance
On Tuesday, 20 April AmCham EU hosted a plenary meeting on sustainable finance. Ahead of several expected legislative files, including a review of the Non-Financial Reporting Directive (NFRD) and a delegated act of the taxonomy, the plenary meeting dedicated its theme to the renewed EU Sustainable Finance Agenda in a new transatlantic context.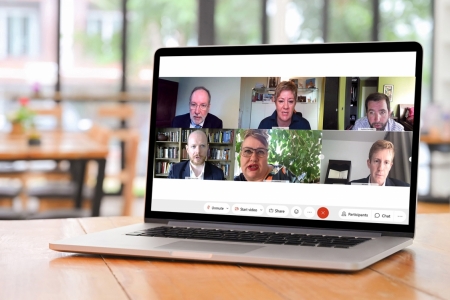 The keynote address delivered by John Berrigan, Director-General, DG FISMA, European Commission focused on the latest developments and upcoming files in sustainable finance with the backdrop of increased transatlantic cooperation as the new administration in Washington initiates its work on sustainability and green finance. The EU has played a key role as a driver of sustainable finance within the last years, allowing for the issue to develop into a new policy paradigm on the international stage setting new precedents for investments and paving the way for sustainable finance.
The keynote was followed by a panel discussion, titled 'Delivering on disclosure: EU and US goals to integrate ESG in financial markets.' Moderated by David Henry Doyle (S&P Global), Chair, Sustainable Finance Task Force, the panel featured representatives from both sides of the Atlantic including Will Beach, Financial Attaché, US Treasury Representative of the US Mission to the EU; Stéphane Cieniewski, Senior Advisor on Environment and Climate, French Treasury; Nadja Picard, Global Reporting Leader at PWC; and Sirpa Pietikäinen, Member of the European Parliament (EPP, FI). The panel discussed the importance of transatlantic and international dialogue for disclosures and participants operating in global and interconnected markets.
The sustainable finance sphere has seen immense developments in recent years showing the appetite for sustainable investments globally. Coordination and increased cooperation on both sides of the Atlantic, but also in international fora, will be crucial as sustainability reporting is under further development.