You are here
AmCham EU hosts panel discussion at WTO Public Forum 2015
On Thursday 1 October, AmCham EU held a session called 'Trade Works! Does it? Can we make it work even better?' at the WTO Public Forum in Geneva.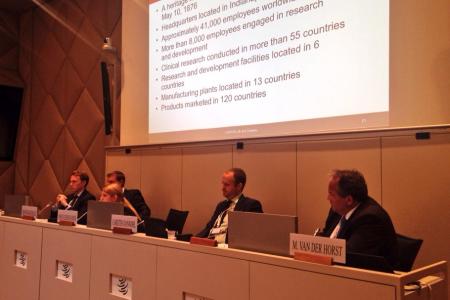 The session featured a panel composed of Mark van der Horst, EU Affairs Director at UPS and Chair of the AmCham EU Trade and External Affairs Committee; Carsten Dannöhl, EU Government Affairs Manager at Caterpillar; Dennis Kredler, EU Affairs Director at The Dow Chemical Company; Doris Schernhammer, European Public Affairs Manager at Eli Lilly and Marcus Bartley Johns, Trade and Competitiveness Specialist at the World Bank Group.
The panel looked at the current state of trade and put forward ideas on how to expand it further. The discussion demonstrated the benefits of a global inclusive and open trade regime and explored what is needed to solidify and strengthen this in the future.