You are here
AmCham EU hosts its 2022 Annual General Meeting
On Tuesday, 28 June, AmCham EU held its Annual General Meeting (AGM), where we had the honour of welcoming Ilze Juhansone, Secretary-General, European Commission for a fireside chat and Q&A with members. In the internal session, members reviewed last year's accomplishments and discussed future plans for the organisation in 2022 and beyond.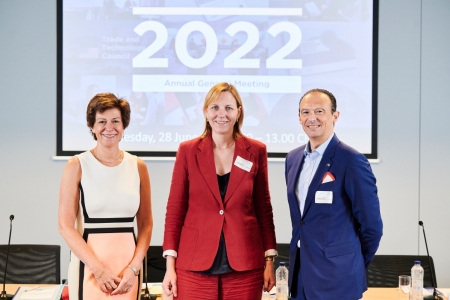 The AGM also featured the presentation of the Lizanne Scott Staff Excellence Award, which is given annually to a member of the secretariat who has demonstrated outstanding work over the last year. The recipient of the 2022 Lizanne Scott Staff Excellence Award is Lucia Vaculova, Associate Manager. Congratulations!
Read our Annual Report 2021 to see what we accomplished together in 2021!