You are here
AmCham EU hosts fourth Agro-food Risk Roundtable
On 16 November, AmCham EU hosted the fourth edition of the Agro-food Risk Roundtable.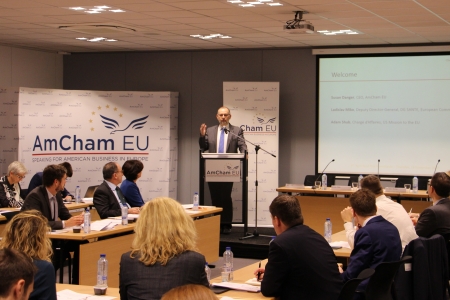 The event was organised in collaboration with the European Commission's DG SANTE, the US Department of Agriculture and the US Food and Drug Administration. Gathering over 50 participants from governments, industry and NGOs, the discussion revolved around uncertainty in scientific assessment and its impact on risk analysis.
The first panel was on the challenges that risk assessors face when dealing with uncertainty and how it can influence the conclusions of the risk assessment. The participants exchanged views on practices to minimise the impact on the entire risk analysis process.
The second panel looked at the implications of communicating uncertainty, in terms of consumer confidence and institutional reputation, pointing out the unintended consequences that miscommunication might have on the overall risk analysis process.
This event was the fourth in a series of roundtables organised on risk analysis in the agro-food sector. All partners of the event recognised the strong value of these discussions, which also contribute to strengthening the transatlantic regulatory dialogue. Participants agreed to reconvene in 2018.
If you have questions about the event or AmCham EU's work on agro-food issues, please contact Stephanie Brochard (sbr@amchameu.eu).