You are here
AmCham EU hosted panel discussion on German Presidency
On Monday, 13 July, AmCham EU hosted a panel discussion on the German Presidency of the Council of the European Union. Speakers included: Ambassador Axel Dittman, Director, EU Institutional, Affairs, Brexit, EU Coordination and EU2020 Presidency, German Federal Foreign Office; Dr Wolfgang Dierker, Managing Director, GE Deutschland Holding GmbH and Policy Adviser, AmCham Germany and Dr Heiko Willems, Director, BDI/BDA, the German Business Representation. Cristina Falcone (UPS), Chair, Policy Group, AmCham EU moderated the discussion.
Germany took over the Presidency from Croatia which dealt with the impact of COVID-19 since the early stages of its Presidency. The German Presidency and the next Presidency trio to will be responsible for leading the road to the economic recovery.
Due to the current pandemic, the German Presidency outlined that it needed to adapt to the new virtual world. The European summit which took place over last weekend, has been the first in-person meeting at the Council of the European Union in months.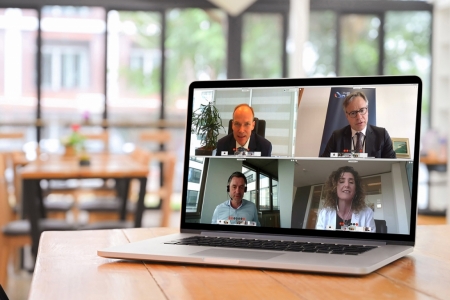 It was expressed by the speakers that the Member States need to act now and be more ambitions about the integration of the Single Market. Moreover, it was agreed that in the face of the current crisis Europe needs to remain competitive in the world and implement greater digitalisation.
During the event, speakers outlined that the German Presidency will focus on the Multiannual Financial Framework (MFF), Brexit, finding a COVID-19 vaccine and migration. They also mentioned the importance of international trade and the upcoming EU trade agreements with other countries as well as the EU-MERCOSUR trade agreement.
The Presidency trio – Germany, Portugal and Slovenia are working closely together and will continue with their cooperation for the next 15 months.
AmCham EU looks forward to working together with Germany over the coming months and wishes the country all the best with its Council Presidency.