You are here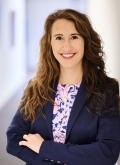 Miranda Tiona joined AmCham EU in 2021 as Senior Member Relations Adviser. In this role, she leads the resource mobilisation and external relations strategy including the development, retention, educational programming and strategic planning of AmCham EU's membership initiatives.
Miranda brings work experience from Washington, DC, Paris and Shanghai in a wide range of fields including government affairs, international trade and economic development, equestrian sports management, communications consulting and US public policy. She previously has worked for Bloomberg Government on their Corporate Government Affairs team, where she provided public policy intelligence tools to policymakers and government relations executives to keep them abreast of government action and the industry impact. She also worked for the Department for International Trade at the British Embassy, the International Government Affairs team at ExxonMobil and the US House of Representatives.
Miranda holds a Master's with Honors in Advanced Global Studies with a concentration on Human Rights and Humanitarian Action from Sciences Po and a Bachelor's of Business Administration in International Business and Political Science from the University of North Florida. During her undergraduate studies, she interned at the US Department of Commerce, Foreign Commercial Service in Shanghai, China on a full scholarship.
Miranda is an American national. She is actively learning French and Mandarin Chinese.