You are here
Reinforcing transatlantic collaboration in financial services in Washington, DC
From Tuesday, 17 to Thursday, 19 October, AmCham EU visited Washington, DC to discuss overarching priorities around financial services and sustainable finance. On the first day, delegates attended a panel discussion on the importance of transatlantic cooperation organised by the US Chamber of Commerce with Geraldine Byrne Nason, Ambassador of Ireland to the US; Anniken Krutnes, Ambassador of Norway to the US and Jean-Arthur Régibeau, Ambassador of Belgium to the US. Throughout the trip, delegates also held high-level meetings with Rohit Chopra, Director, US Consumer Financial Protection Bureau and Elizabeth Kelly, Special Assistant to President Biden, National Economic Council.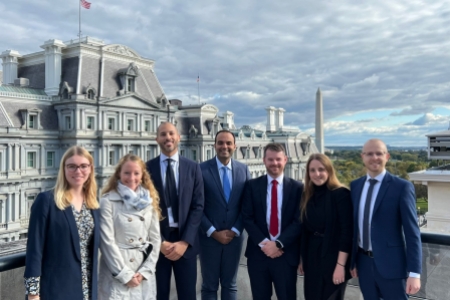 Rounding out the first day, they also met with Antoine Begasse, Counsellor, EU delegation to the United States, Directorate-General for Financial Stability, Financial Services and Capital Markets Union, European Commission and financial services and sustainable finance experts from the US Chamber of Commerce.
On the second day of the visit, AmCham EU spoke with a range of US policymakers such as Mike Carlson, Co-director, Office of International Financial Markets, US Department of the Treasury; Suyash G. Paliwal, Director, Office of International Affairs, Commodity Futures Trading Commission and counsels to Caroline Crenshaw, Commissioner, US Securities and Exchange Commission.
On the final day, delegates met with Richard Gaffin, Senior Adviser, International Affairs, Office of the Comptroller of the Currency and Peter Matheson, Managing Director, Securities Industry and Financial Markets Association.