You are here
Advancing healthcare resilience after COVID-19
On Tuesday, 25 October, AmCham EU hosted its annual healthcare plenary on 'Advancing Healthcare Resilience as a response to the COVID-19 pandemic' featuring a keynote address from Céline Gauer, Head of the Recovery and Resilience Task Force, European Commission. Gauer highlighted the need for reforms and investments both in primary care as well as on a structural level. She also emphasised that the private and public sectors need to work together to ensure sustainability in healthcare, and to promote development in cancer research.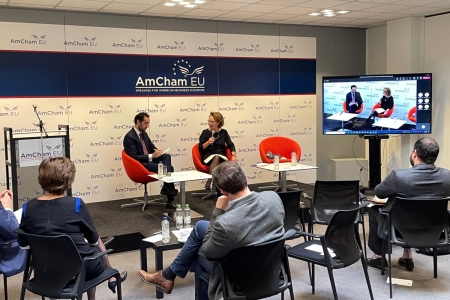 A panel focusing on the question of healthcare policy after COVID also took place. Panellists highlighted that, following the pandemic, the EU has taken concrete steps to create more resilient healthcare system, including in the form of the Recovery and Resilience Faculty. The discussion was moderated by Felix Uedelhoven (GE-Healthcare), Vice-Chair, Healthcare Committee, AmCham EU and featured the following guest speakers:  
Frederico Guanais, PhD, Deputy Head, Health Division, Directorate for Employment, Labour and Social Affairs, Organisation for Economic Co-operation and Development (OECD)
Tomislav Sokol MEP (EPP, HR)
For further background, please read our paper on the Digital Healthcare and our latest Transatlantic Economy Report.