You are here
What's ahead for the next ten years in digital?
The EU and the US must take advantage of the upcoming Trade and Technology Council (TTC) ministerial to enhance collaboration and strengthen the transatlantic relationship, according to Margrethe Vestager, Executive Vice-President, A Europe Fit for the Digital Age, European Commission, who gave the keynote address at the 10th Annual Transatlantic Digital Economy Conference on Tuesday, 29 November. In an age of geopolitical instability, fora like the TTC are a powerful tool for delivering resilience to an increasingly digitalised society. With the council's third ministerial meeting next week, this year's conference comes at just the right moment. Couldn't attend? Find out what you missed.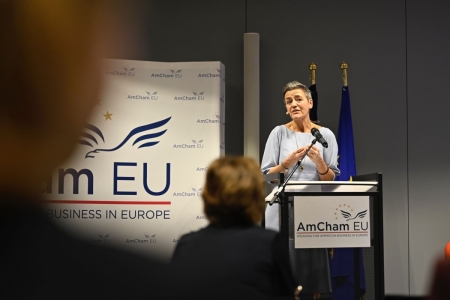 The first panel of the day, 'The Trade and Technology Council: a turning point for the transatlantic digital economy?' addressed the state of the transatlantic digital space, with an eye toward furthering cooperation at next week's TTC meeting. The panel was moderated by Pastora Valero, Senior Vice-President, Public Policy and Government Affairs for Europe, Middle East and Africa, Cisco Systems Inc., and featured Andrus Ansip, MEP (RE, EE); Thibaut Kleiner, Director for Policy, Strategy and Outreach, Directorate-General for Communications Networks, Content and Technology, European Commission; Michael Lally, Minister Counsellor for Commercial Affairs in Europe, US Mission to the EU; and Andrea Renda, Senior Research Fellow and Head of Global Governance, Regulation, Innovation and Digital Economy, Centre for European Policy Studies (CEPS).
During the second panel, 'Resilience in the face of instability: cybersecurity and the transatlantic relationship,' panelists discussed the EU's leadership role in crafting digital policy that fosters resilience, as well as opportunities for the EU and US to ensure that new developments are based on shared values. The panel that was moderated by Florian Pennings (Microsoft), Issue Lead, Cybersecurity, AmCham EU and featured Miriam Buiten, Research Fellow, Centre on Regulation in Europe (CERRE); Christiane Kirketerp de Viron, Head of Unit, Cybersecurity and Digital Privacy Policy, Directorate-General for Communications Networks, Content and Technology, European Commission; and Pelle Aardewerk, Head of Vertical Solutions for Europe, Middle East and Africa, HP Wolf Solutions.
The conference also featured two short videos: Building digital ecosystems with BeCentral and Empowering women with GIRLEEK, illustrating in real-world terms how the digital space can empower people through new skills. Each was introduced by, respectively, Laurent Hublet, Managing Director and Co-founder, BeCentral, and Julie Foulon, Founder, GIRLEEK.
Thank you to all the attendees and speakers as well as our conference sponsors, Apple, Cisco and HP. To learn more about AmCham EU's position on digital policy issues, read our latest papers on the Artificial Intelligence Act and the Data Act.
Photos: François de Ribaucourt