You are here
The changing landscape post-Brexit: a view from third countries
On Tuesday, 18 February 2020 AmCham EU hosted a plenary event on The changing landscape post-Brexit: a view from third countries organised by the Brexit Task Force. The panel discussion aimed to shed light on how third countries are looking at EU-UK negotiations and the different challenges and opportunities that this process will bring to them.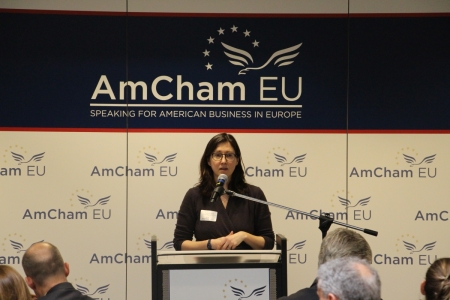 Speakers shared their countries' priorities and expectations as the UK takes up its new role as an independent trading nation. Where third countries have shown interest in negotiating trade agreements with the EU, the panel discussion demonstrated the key role of the future EU-UK relationship in defining the scope for future negotiations between the UK and third countries. The panel was also instrumental in scoping out which models of governance could work to successfully manage the EU-UK relationship in the long run.
The panel debate was followed by a luncheon featuring a keynote speech by Hermione Gough, Director, UK-EU Political at the UK Mission to the EU. During her speech, Hermione Gough outlined the UK government's approach to forthcoming negotiations with the EU and clarified Downing Street's position on key aspects such as regulatory alignment and future governance.