You are here
The AmChams in Europe network met with the US Department of Commerce
On Tuesday, 19 May close to 40 representatives of AmChams from all over Europe and wider Europe met with the US Department of Commerce. The meeting provided perspectives from different departments covering EU issues. We also heard from Matthew Edwards, Director of the office of Russia, Ukraine and Eurasia.
The topics of discussion covered the transatlantic relationship, the Three Seas initiative and China.
This week the AmChams in Europe network will be meeting with Ian Steff, Assistant Secretary to continue the dialogue with the US Department of Commerce.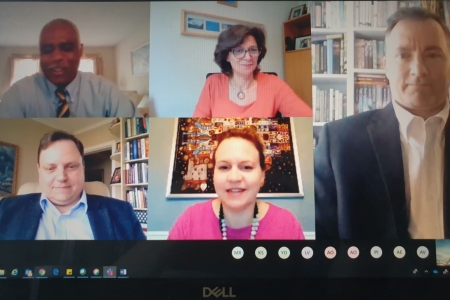 AmCham EU met with the following offices of the US Department of Commerce:
Office of Western & Northern Europe
Eli Corso-Phinney, Senior International Trade Specialist, Office of Western & Northern Europe, US Department of Commerce

Ellen House, Deputy Director, Office of Western & Northern Europe, US Department of Commerce

Kristin Najdi, Director, Office of Western & Northern Europe, US Department of Commerce

Don Wright, Senior International Trade Specialist, Office of Western & Northern Europe, US Department of Commerce
Office of Central & Southeast Europe
Donald Calvert, Senior International Trade Specialist, Office of Central & Southeast Europe, US Department of Commerce

Aileen Elwell, Acting Deputy Director, Office of Central & Southeast Europe, US Department of Commerce

Heather Helm, Director, Office of Central & Southeast Europe, US Department of Commerce

Tshanda Kalombo, Senior International Trade Specialist, Office of Central & Southeast Europe, US Department of Commerce
Office of Russia, Ukraine & Eurasia
Boris Chumak, Senior International Trade Specialist, Office of Russia, Ukraine & Eurasia, US Department of Commerce

Matthew Edwards, Director, Office of Russia, Ukraine & Eurasia, US Department of Commerce

Tanner Johnson, Senior International Trade Specialist, Office of Russia, Ukraine & Eurasia, US Department of Commerce