You are here
Trust, cooperation and optimism- the transatlantic digital economy
Data has become the primary driver of our digitalised economy, and it impacts every facet of our lives. In fact, it is estimated that by the end of 2021 alone, 60% of the global GDP will be digitalised. Knowing this, AmCham EU hosted the 9th edition of its annual Transatlantic Digital Economy Conference on Thursday, 28 October. This year's event featured discussions on how private and public entities can channel the power of data to fuel Europe's digital decade and foster transatlantic ties.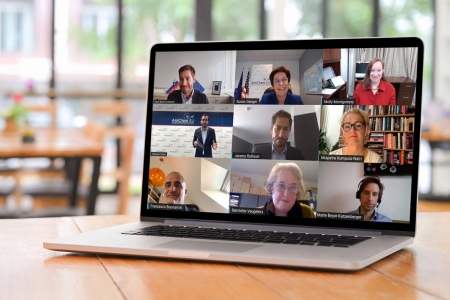 The conference, sponsored by Facebook, featured a keynote speech from Mark Boris Andrijanič, Minister for Digital Transformation, Republic of Slovenia. After an introduction from Susan Danger, CEO, AmCham EU, the Minister talked about how governments can use the power of data.
The opening speech was followed by a panel discussion on how the EU can best frame data management and regulation moderated by Jeremy Rollison (Microsoft), Vice-Chair of the Digital Economy Committee, AmCham EU. The panel featured Malte Beyer-Katzenberger, Team Leader, Data Policy and Innovation, DG Connect, European Commission, Francesco Buonarroti, IT Vice-President and Chief Information Officer, Janssen EMEA (Johnson & Johnson), Miapetra Kumpula-Natri, Member of the European Parliament (FIN, S&D) and Reinhilde Veugelers, Senior Fellow, Bruegel.
As a closing keynote speaker, Molly Montgomery, Deputy Assistant Secretary for European and Eurasian Affairs, US Department of State, gave a speech on transatlantic cooperation in the data space and in the context of the Trade and Technology Council (TTC).
Not only is data essential for the transatlantic alliance, but it will be a key pillar for achieving the EU's ambitions for a 'digital decade'. This conference served as a valuable lesson of how we must use - based on the ongoing positive momentum - the opportunities that arise to harness the power of data on the basis of trust, cooperation and optimism.
If you want to find out more about the role of data in the digital age, you can read our latest blogpost here or watch our interviews with Rosa and Nutrinomics, two data-driven start-ups.