You are here
Swedish start-up Energy Effective Solutions wins AmCham EU Youth Entrepreneurship Award 2022
The American Chamber of Commerce to the European Union (AmCham EU) and Junior Achievement Europe (JA Europe) are delighted to announce that Energy Effective Solutions, a Swedish start-up, is the winner of the tenth AmCham EU Youth Entrepreneurship Award. This year's edition was dedicated to women entrepreneurs, for the third time in a row. Ida Norström, Founder and CEO, won the hearts and minds of the jury with her ambition to grow her business into one of Europe's largest electricity companies and lead the transition to a modernised electricity industry. An inspiring young business leader, Ida Norström started her career at fourteen years old only and had already completed an apprenticeship before finishing high school.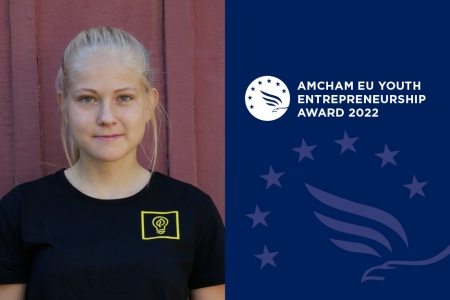 Energy Effective Solutions programs and installs diverse, energy-efficient electrical projects that range from automated control systems to solar cells and electric car chargers. Ida Norström identified the growth potential stemming from consumer demand in sustainable solutions and has developed a team that is skilled and able to take advantage of this trend. The choice of Energy Effective Solutions is also meant to encourage young people to engage in this sector that is crucial for the EU and the world.
The distinguished jury included Kelly Adams-Smith, Deputy Chief of Mission, US Mission to the EU; Daniel Carrera, President, UPS Europe; Chris Delaney, President EMEA, Goodyear Europe; Susan Danger, CEO, AmCham EU; Eva Maydell, Member of the European Parliament; Martin Jetter, Senior Vice President and Chairman, IBM Europe; and Gilles Thiebaut, Senior Vice President and Managing Director, HPE Northern Western Europe. The jury members had the difficult task of choosing a winner amongst three Junior Achievement Europe alumnae: Auguste Kaknevičiūtė, Founder and CEO of ONE 100 from Lithuania; Gry Larsen, CEO and owner of Pakkeriet Hadsund from Denmark; and Ida Norström, Founder and CEO of Energy Effective Solutions from Sweden.
As she received the award, Ida Norström, Founder and CEO, Energy Effective Solutions, said: 'It is an honour to receive this prize and I look forward to starting the mentorship programme with such inspiring business leaders, as I take my company to the next level.'
Susan Danger, CEO, AmCham EU, said: 'As we celebrate the European Year of Youth, I am thrilled to honour emerging women leaders. Entrepreneurship plays a key role in growing our economy and providing new opportunities to all segments of society. AmCham EU looks forward to mentoring and supporting Ida Norström to help her innovative company do both.'
Diana Filip, Deputy CEO, JA Europe, added: 'Every multinational business we know today, started with the vision and ambition of individuals, who passionately and relentlessly worked to make their idea a reality. We are very thankful to AmCham EU and its members for supporting our JA alumnae in their entrepreneurial accomplishments.'
The AmCham EU Youth Entrepreneurship Award was launched in 2013 to recognise young people who have chosen to become entrepreneurs and to foster entrepreneurship in Europe. The initiative is supported by AmCham EU's Executive Council and organised in collaboration with JA Europe. Each finalist is presented with a monetary prize toward their start-up. In addition, all finalists will also receive mentorship from top European CEOs of AmCham EU member companies. AmCham EU also makes a contribution to the three local JA Europe organisations, recognising their contributions to fostering entrepreneurship at local level.
###
About AmCham EU
AmCham EU speaks for American companies committed to Europe on trade, investment and competitiveness issues. It aims to ensure a growth-orientated business and investment climate in Europe. AmCham EU facilitates the resolution of transatlantic issues that impact business and plays a role in creating better understanding of EU and US positions on business matters. Aggregate US investment in Europe totalled more than €3.4 trillion in 2021, directly supports more than 4.9 million jobs in Europe, and generates billions of euros annually in income, trade and research and development.
About JA Europe
JA Europe is the largest organisation in Europe dedicated to preparing young people for employment and entrepreneurship. JA Europe is a member of JA Worldwide® which for 100 years has delivered hands on, experiential learning in entrepreneurship, work readiness and financial literacy. JA creates pathways for employability, job creation and financial success. Together we work in 41 countries in Europe, offering 4 million learning experiences every year in core programmes and inspiring millions more through online events and activities. JA Worldwide was nominated for the Nobel Peace Prize 2022. For the fourth year in a row, JA Worldwide was selected in 2022 as a top-ten global NGO by thedotgood (formerly NGO Advisor).