You are here
Queen Elisabeth Competition donations
The Queen Elisabeth Competition has been active since 1937 as one of the main music competitions of world-renowned importance. Only WWII had imposed a pause to the event prior to the COVID-19 postponement of the 2020 edition. The competition is relying mainly on private donations and needs financial support more than ever to go through this exceptional ordeal. Donations are vital and will make it possible for the Queen Elisabeth Competition to organise an outstanding and awaited piano edition next year, maintaining its standard of excellence.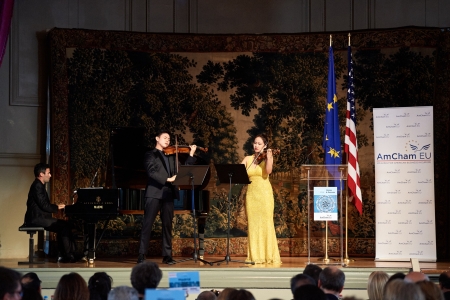 AmCham EU is a long-standing supporter and a partner of the Queen Elisabeth Competition. This year, following the cancellation of our annual Gala and to express our support for the Arts in these exceptional circumstances, AmCham EU has decided to make a donation to the Queen Elisabeth Competition. Should you wish to contribute as well please click here. Donations are tax-deductible. For all details please visit the Queen Elisabeth Competition website.
For your donation to be used towards the participation of US candidates and jury members in the 2021 competition, add 'AmCham EU' in the payment description.
You can also keep up with the Queen Elisabeth Competition by taking a look at their summer virtual events including Flagey on Air and Sessions d'été de Tempo.