You are here
Looking local to deliver core IT services
The IT and digital team within AES Bulgaria delivers core IT and business services. For this, it relies on more than 10 local suppliers to provide IT infrastructure, telephone and cybersecurity services. For instance, the local service provider Telenor has optimised AES Bulgaria's mobile phone bills by more than 50% due to its flexible and highly specialised workforce. Simultaneously, working with AES has given local suppliers like Telenor the chance of expanding beyond their local markets and developing innovative services. Read their story to find out how local parterships can help deliver core IT services.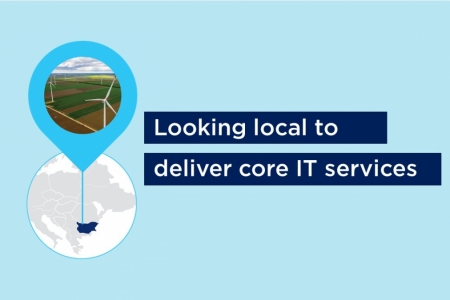 AES Bulgaria is part of The AES Corporation in the Eurasia region covering markets from the Netherlands up to Vietnam. The Eurasia Shared Services Center, based in Sofia, delivers financial, IT, supply chain, human resources and communications services for the company's businesses in five countries.
The AES IT and digital team is made up of 10 employees, who are spread across the businesses in the Eurasia region. In order to be able to deliver core IT and business services, AES relies on the services more than 10 local suppliers in areas such as IT infrastructure, telephony and cybersecurity. AES counts on local suppliers for a flexible workforce with a high degree of specialised skill and expertise, and rapid response capacities in order to ensure business continuity.
In its work with local telecoms providers in Sofia, the AES IT team has benefitted from suppliers' willingness to go beyond their off-the-shelf service offering for their client. One such example is local telecoms provider Telenor, who was able to offer an innovative service for mobile phone cost management. The new service allowed every AES employee in Bulgaria to have visibility and control over their phone bill and especially over the roaming costs. Moreover, Telenor was able to offer so called pool-based services – such as internet and internet in roaming. This was a key achievement because as a consequence, the Bulgarian entities were able to optimise mobile phone bills by more than 50%. This innovation then went on to become a part of their wider service offering.
AES' work with local suppliers is mutually beneficial. Aside from the obvious financial potential of working with such a big client, local suppliers can develop their own markets with innovative new services developed in tandem with their multinational client. Finally, working with a company with multinational presence provides potential to expand beyond local markets. Meanwhile, AES can continue to deliver reliable, affordable and sustainable energy to its Eurasia customers.
Acknowledgement: Petar Radev, IT director, AES Eurasia Shared Services Center
The success story of global trade lies in strong partnerships between companies of all sizes. Find out more about European ecosystems connecting small businesses with larger American companies.