You are here
Joint American Hour: Previewing the EU-US Summit with HE Stavros Lambrinidis
During the latest iteration of the American Hour series on Thursday, 27 May, AmCham EU welcomed HE Stavros Lambrinidis, Ambassador of the European Union to the United States for an exchange on the upcoming EU-US Summit. The meeting was co-organised with the US Chamber of Commerce.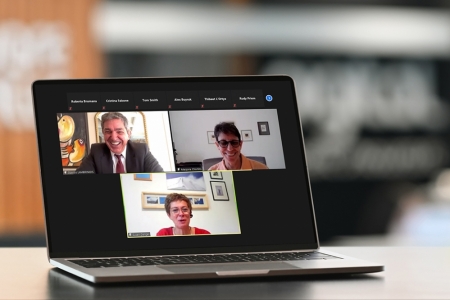 After a brief networking session, the American Hour began with a short introduction by Susan Danger, CEO, AmCham EU followed by an opening statement by Ambassador Lambrinidis and culminating in a discussion session moderated by Marjorie Chorlins, Senior Vice-President for European Affairs, US Chamber of Commerce. The discussion centered around the events in the past half year which have led to a revival in the intensity and depth of the cooperation between the European Union and the United States, as well as how that renewed cooperation might be leveraged into actions in the future.
As an organisation that thrives together with the Transatlantic Relationship, AmCham EU identified areas where the EU and US could build on the renewed optimism. Read more about it in the newly-published paper on 'Emerging areas for EU-US cooperation' on the AmCham EU website as well as a larger overview of the transatlantic relationship in our Transatlantic Economy Study.
Should you have any questions on the American Hour series, do not hesitate to contact Alex Buyruk (ABU@amchameu.eu)