You are here
#EUSEW2022: innovating for a greener future
What is the role of technology in Europe's green transition? That's the question circulating this week as European Sustainable Energy Week (EUSEW) kicks off. With a theme of 'Going green and digital for Europe's energy transition', now is the perfect opportunity to showcase the steps American companies operating in Europe are taking to lead the way in sustainable energy innovation. Check out these six examples of ways our members are helping drive the green transition and dive into more with the Green Way campaign.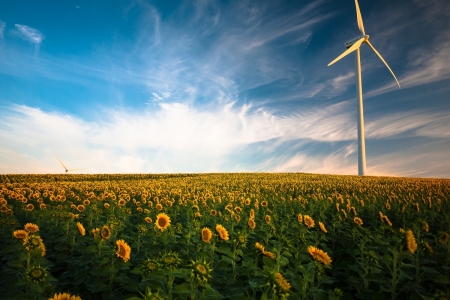 Solar energy and the circular economy (First Solar)
First Solar is a leading global provider of responsibly produced solar modules advancing the fight against climate change. Their Series 6 PV modules formed the basis of a new solar plant in Bordeaux, positioning the company as 'the backbone of France's solar fleet'. But First Solar isn't just a leader in sustainable energy, it is a model for a circular economy. First Solar's high-value recycling technology recovers more than 90% of semiconductor material and 90% of the glass that's then able to be reused in new modules. As the EU strives toward its goal of 32% renewable energy by 2030, solar will be an essential component of the European electricity grid.
Smart charging synergy (Chargepoint)
Smart charging can fuel the green transition. By 2050, the transport sector is set to reduce emissions by 90%, putting electric vehicles, and how we charge them, front and centre for the EU's green targets. With its smart charging stations, Chargepoint is able to adapt the charging cycle of electric vehicles to the conditions of the power system and the needs of users, unleash powerful synergies between clean transport and low-carbon electricity. They have also recently partnered with the city of Hamburg, Germany to boost the uptake of electric vehicles in the city by installing up to 7,400 private charging points.
Investing in Europe's electrification (Ford)
Did you know Ford is investing more than $30 billion globally by 2025 in electrification to support a broad portfolio of battery electric vehicles and solutions including charging infrastructure? In Europe, they have committed to 100% of their passenger vehicles being zero-emissions capable, all-electric or plug-in hybrid by 2026; moving to all-electric by 2030. Ford's commercial range in Europe will also be 100% zero-emissions capable, all-electric or plug-in hybrid by 2024; moving to two-thirds of commercial vehicle sales expected to be all-electric or plug-in hybrid by 2030.
Smart Flowers generating clean electricity (CNH Industrial)
CNH Industrial's industrial brand, CASE Construction equipment, is taking a holistic approach to contributing to the Green Deal goals, from developing low-emission technologies for its machinery, to generating clean energy from its manufacturing facilities. One such innovation is the Smart Flower, which is implemented in three of their industrial plants across Europe. The Smart Flower's petals are able to track the sun and transform its rays into electricity - up to 6,200 kWh per year or enough to power the average household in Central Europe.
Tech delivering sustainable standards (Microsoft)
Microsoft works with sustainability partners across Europe to develop Internet of Things (IoT) solutions that ensure their dedication to emissions reductions is fit for this century and the next. One such partner, the Danish engineering company Danfoss, specialises in sustainable air conditioning, food cooling, heating, gas and other products made and sold in line with the United Nations Global Compact. Through this partnership, Danfoss created a cloud-based system of sensors and algorithms to realise above a 30% and up to 40% net savings in energy consumption.
Maintaining clean energy equilibrium (Cisco)
Increasing the share of sustainable energy sources will naturally lead to a more variable supply. The sun doesn't always shine, and the wind doesn't always blow, so the supply of power fluctuates. To keep stability, there must be a balance between production and consumption of energy. Enter Cisco, who has developed solutions to help maintain equilibrium in the renewable energy market. By embedding IoT technology within utility infrastructures, a system of routers provides an opportunity to analyse energy data and maintain stability through local networks in Germany, and across the world.
Read more stories like this on Invested In Europe and join the conversation on social by using #EUGreenWay.