You are here
Engaging European leaders with our Executive Council
What role can business play in boosting the attractiveness of Europe? That was one of the questions AmCham EU's Executive Council explored during its autumn plenary over Monday, 6 November and Tuesday, 7 November. The group met in Brussels for a series of internal planning meetings and external discussions with high-level stakeholders. Throughout the two days, conversations centred around the difficult geopolitical landscape, what can be done to strengthen the Single Market, how the private sector can engage with the EU institutions ahead of the upcoming elections and the importance of aligning with likeminded partners.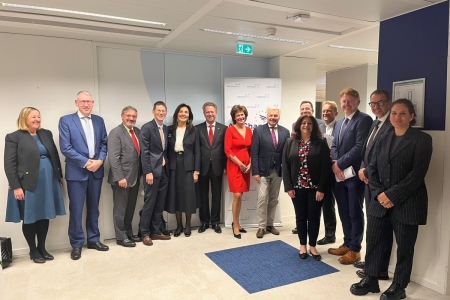 Take a look below for the full list of who the group met with.
Vsevolod Chentsov, Head of the Mission of Ukraine to the European Union
Valdis Dombrovskis, Executive Vice-President and European Commissioner for Trade
Mark Gitenstein, US Ambassador to the EU
Antoine Kasel, Head of Cabinet for Commissioner Schmit, European Commissioner for Jobs and Social Rights
Didier Reynders, European Commissioner for Justice and Competition
Stefano Sannino, Secretary-General, European External Action Service
Klaus Welle, Academic Council Chairman, Martens Centre and Former Secretary-General, European Parliament
Learn more about our Executive Council.