You are here
Celebrating a decade of female empowerment: Dare to dream, girls!
On Tuesday, 11 October, AmCham EU commemorated the tenth anniversary of the International Day of the Girl. The day was an opportunity to reflect on the advances in the rights of women and girls, as well as discuss the work still needed to be done. Susan Danger, CEO, AmCham EU, kicked off the event by drawing attention to pressing issues impacting women around the world, while moderator Aliki Foinikopoulou (Salesforce), Vice-Chair, Diversity and Inclusion Task Force, AmCham EU highlighted the critical role of public-private partnerships in the fight for gender equality.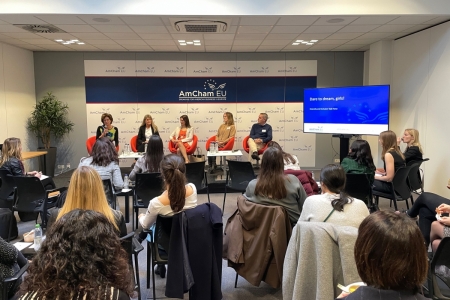 The panel of speakers included Marta Encinas, Counsellor and Education Gender Ambassador, OECD; Dagmar Schumacher, Director, Brussels Office, UN Women; Alessandra Gario, Diversity and Inclusion Manager EMEA, CNH Industrial and Albert Vallejo, Head of Government Affairs EMEA, Mattel.