You are here
Become a Halloween hero: donate blood or plasma and save lives
The COVID-19 pandemic has affected countless health systems, including the supply of blood and plasma in hospitals across Belgium. Now, facing increased demand, the Belgian Red Cross needs renewed donations. Increasing the supply of blood and plasma saves lives, and AmCham EU is encouraging all of us to do our part this Halloween. Learn how to get involved.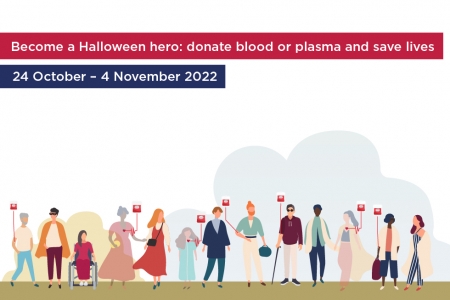 Facts:
In 30 minutes, you can save 3 lives.
Belgium needs just under 500,000 bags per year to meet its needs.
Less than 1 person in 10 donates blood, whereas 1 in 7 will need blood someday.
You can make an appointment online for a blood donation in one of the following permanent blood collection centres:
Red Cross blood centre: Rue des Alexiens 16b, 1000 Bruxelles
CHU Saint-Pierre: Rue Haute 290, 1000 Bruxelles
Hospital Erasme: Route de Lennik 808, 1070 Bruxelles
Red Cross blood centre: Avenue Konrad Adenauer 4, 1200 Woluwe-Saint-Lambert