You are here
Assessing the future of the competition playbook
Competition policy must continue to fuel innovation, This was the message that Olivier Guersent, Director-General, Directorate-General for Competition, European Commission brought to the 39th Annual Competition Policy Conference on Wednesday, 26 October. With the European Commission's review of competition policy tools underway, as well as its work on related policies like the Foreign Subsidies Regulation, this year's Competition Policy Conference could not have been timelier. Couldn't attend? Find out what you missed.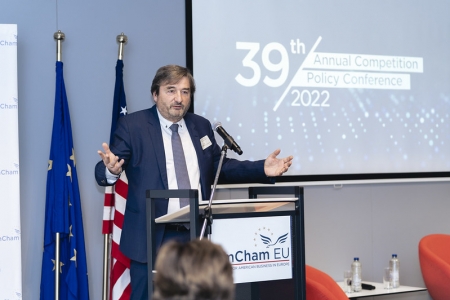 The first panel of the day, 'Competition in a new world: rethinking rules of the future?' addressed the current review of competition rules. The panel was moderated by Liliane Gam, Counsel, Linklaters, and featured Angélique de Brousse, Senior Legal Counsel at Johnson & Johnson, Head of the Competition Law and Policy Group, EMEA; Maria Jaspers, Director, Cartels Directorate, Directorate-General for Competition; and Aurelien Portuese, Director, Schumpeter Project on Competition Policy, the Information Technology & Innovation Foundation (ITIF).
Panel two 'Keeping pace: investing in a resilient economy' examined the role of state aid to support national economies in periods of economic upheaval. The panel that was moderated by Alberta Laschena (Kreab), Vice-Chair, Competition Policy Committee, AmCham EU, and featured Hendrik Bourgeois, Vice President Intel Government Affairs for Europe; Dr Johannes Luebking, Secretariate-General, Principal Adviser, European Semester Coordination, Recovery and Resilience Task Force, European Commission; and Federica Maiorano, Senior Competition Expert, OECD.
The conference was closed by Kaarli Eichhorn (Jones Day), Vice-Chair, AmCham EU, who stressed that the future of competition law must be fair and balanced, and set a direction that fosters investment and growth across Europe.
If you want to find out more about the AmCham EU's position of Foreign Subsidies, read our latest position. We would also like to thank our sponsor, BAKER BOTTS, and our media partners MLex and PaRR.