You are here
AmCham EU at the WTO Public Forum 2022
Two weeks ago, an AmCham EU delegation was represented at the 2022 World Trade Organization (WTO) Public Forum in Geneva. The Public Forum brings together delegates from across the globe to discuss the most pressing challenges and opportunities for the global trading system. On the heels of the WTO's 12th Ministerial Conference (MC12) which took place in June, the Public Forum provided a platform for over 3000 participants to deliberate on how trade can help build a more sustainable and inclusive economic recovery.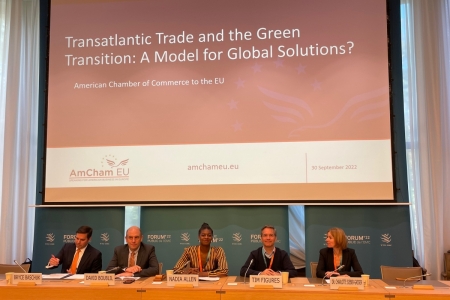 The Forum featured 144 sessions including a panel organised by AmCham EU. The panel, moderated by Nadia Allen, Associate Policy Manager, AmCham EU, included speakers Bryce Baschuk, Reporter, Bloomberg News, David Boublil; Deputy Head of Unit, Directorate-General for Taxation and Customs Union, European Commission; Tim Figures, Associate Director, EU and Global Trade and Investment, Boston Consulting Group; and Charlotte Sieber-Gasser, Senior Researcher and Lecturer, Centre for Trade and Economic Integration, Graduate Institute for International and Development Studies. The discussion explored how transatlantic trade can help accelerate the transition toward a more sustainable economy. While the global trading system faces many challenges, there remains significant opportunity to further align shared objectives to achieve climate neutrality by 2050.
AmCham EU is a strong supporter of a rules-based trading system and will continue to be a constructive partner in reaching sustainability objectives. Continuing a dialogue with key stakeholders will be critical in the coming months and years. The delegation met with Angela Ellard, Deputy Director General, WTO; Jeremy Green, Deputy Head of Mission, Australian Representation to the WTO; Naoki Hikota, Minister, Japanese Representation to the WTO; Clare Kelly, New Zealand Permanent Representative to the WTO and João Aguiar Machado, Ambassador and Permanent Representative of the European Union to the WTO.
Click here for more info on the panel.
Click here for more on our position on the WTO and WTO reform.