You are here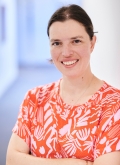 As Communications and Outreach Director Maggy oversees the communications and stakeholder outreach of AmCham EU. The team is responsible for : external relations strategy – stakeholders and outreach; designing and implementing strategies to recruit and retain members; sales and sponsorship; events; marketing; internal communications and audience engagement.
Maggy Peeters joined AmCham EU in January 2013 as Events & PR Manager.
Prior to joining AmCham EU Maggy worked for 6 years at an entity of the Federation of Enterprises in Belgium (VBO-FEB) called European Business Forum (EBF), which is the organiser of the European Business Summit and several key European events. During the Belgian EU Presidency EBF was also in charge of the organisation of several EU business summits (EU China, EU India, AEBF – Asia Europe Business Forum) in close collaboration with the Federal Public Service Foreign Affairs, BUSINESSEUROPE and the European Institutions. She has also been an active member of the board of advisers of AIESEC in Belgium and a board member of AIESEC Alumni in Belgium.
Maggy holds a Masters' degree in Business Management from EHSAL in Brussels. In addition to this she has a post-graduate degree in Project Management from EMS, studied Macro Economics at Cornell University, International Marketing and Business Communication at Harvard University, and followed a protocol course of the United Nations.
Maggy is a Belgian national. She is fluent in Dutch, English and French, and has a basic knowledge of German and Spanish.